International Yacht Management (I.Y.M. ) | Joachim Jong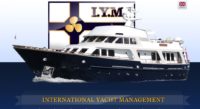 International Yacht Management (I.Y.M. ) | Joachim Jong
Postal Address
Admiraliteits kade 86
3063 EG
Rotterdam
Netherlands
Visiting Address
51, Frankrijklei, Statiekwartier, Antwerp, 2000, Belgium
T:
+31(0)646367290
M: +31(0)646367290
http://www.iym.be
Description
Purchase guidance
The purchase of a yacht should be a joy, but it is of course also a very serious matter and therefore you should ask yourself the question; Am I buying the right yacht and at the proper way?

Am I buying the right yacht? With that we are thinking about the following; What is your main navigation area, how many people are usually on board, with which equipment should the yacht fulfil, how much time and money do I want to spend yearly at maintenance?

We know all the possibilities and can advise you accordingly.

Am I buying the yacht at the proper way? When you are buying the yacht at a certified yacht broker then you may be assured that everything is in order such as the title deed, VAT and other necessary documents.

When you are buying the yacht at a non certified broker or privately then you should definitely let a purchase broker complete the transaction.

It is also possible that the yacht of your choice is lying abroad, we know exactly the right procedure to get the yacht here.

Don't you feel like or don't you have the time to find the right yacht, we can do that for you. With the requirements you desire we will start the search in Europe and will come to your house with the specification and photo's to talk it over.

The purchase is often about a lot of money, a consultation from one hour with us to go through every detail to make sure that you are buying the right yacht and all the necessary documents are in order , is no superfluous luxury.

Valuation
As a sworn broker and official valuer, but more than that because we have the necessary experience and knowledge about the free market prices, we can estimate the value of your yacht. A valuation is a definition of the value of the yacht at a certain moment, in which we will look at the state of the yacht, all the extra's that are on board, is the yacht up to date, is every according to the modern requirements? What are the costs if you will have to build a similar yacht now? What is the surplus value of all the extra's on board. A valuation is NOT an inspection, we asume that everything on board is working accordingly.

You can allso ask for a valuation if there have been major changes on the yacht such as a complete new paintwork or e.g a complete new teak deck. It is often practical to make sure that the costs of the revision are answerable to the increase in value. This can be very important to know if you are considering to sell the yacht.

The reason why you can have a valuation done by us:
1 - Sale
You wish to know what your yacht is worth, you are interested in the selling price at the current free selling market. The valuation will be provided by the demand at the type of your yacht at that moment and how many of similar yachts are for sale? And at what price?

2 - Insurance
You are having your yacht already for a long time and there have been troughout the years a lot of changes and modernizations, you wish to know the value of this moment? Or you have just purchased the yacht and wish to insure her.

3 - Mortgage
You wish to pledge your yacht at a mortgage and your bank is asking for a valuation report. We have the standard report used by the ING bank

4 - You are just curious to know what the value of your yacht is.
Send us an e-mail with the basic specifications of your yacht, such as -type, -year of construction, -dimensions, -engine etc. and the mooring place as well as the reason for your valuation and your phone number. We will call you and inform you about the costs and make an appointment if we come to an agreement.

Management
International Yacht Management (short IYM) is a concern that is very service minded and keep itself busy with things of your motoryacht of which you haven't got the time or simple don't have the knowledge. In the end you can not be at home in anything. A supplement of this at the large superyacht in the mediterranean is very normal, but not common sense over here. However the yachts are becoming larger and you have to look after more and more things, on board as well as the purchase and the maintenance. Some people have the time and enjoy taking care of all the things that have nothing to do with the sailing itself, others don't. You know to which group you belong.

With management for your yacht we think e.g. of the following:
Are the proper documents on board, also when you are going abroad, - VAT, - title deed, - VHF certificate, are you in possession of the proper certificate to sail?

What should I have maintained and when does this have to be done and where should I get it done.
How many times do you have to change oil, - check the heater, - gas inspection - check the airco, - batteries, - fire extinguisher, - proppeller-shaft lubrication, - rudder, or whatever kind of mechanism or technique is on board of your yacht. It all needs attention from time to time. We can with a proper schedule co-ordinate this precisely for you.

And if you are having the yacht serviced, whom should you go to? Am I not paying to much? This is also a matter in which we can help and supervise that all the activities are well performed

Is my yacht properly insured? In short there are many things belonging to your yacht of which you never even think of, and as a matter-of-fact that is good because you do have your yacht for fun to enjoy yourself, it is your hobby. You already have very little spare time........ and that is exactly why we are here......take advantage of this and discuss with us all the things we can take out of your hands.