Connect Yachtbrokers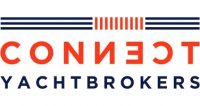 Description
Fijn dat u onze website bezoekt. Pim van Putten en Connect Yachtbrokers heten u van harte welkom.

U zoekt een jachtmakelaar die uw belangen op een integere manier behartigt. Goed met u communiceert en het gevoel dat meespeelt bij koop en verkoop van een jacht actief respecteert. Echte service voor een verrassend lage courtage. Waar heb je dat nog?

Meestal is het geen goed idee om van je liefhebberij je werk te maken, maar dat is wel precies wat Pim van Putten gedaan heeft. Als kind de watersport met de paplepel ingegoten, al jong in de watersportsector begonnen. Het ketelpak aan. Het onderwaterschip, de motor, kortom; de handen uit de mouwen. Een paar jaar in de watersport winkel als verkoper, flottielje begeleiden (Griekse wateren) en daarna in de jachtverhuur.

En uiteindelijk de jachtmakelaardij beland en nu is het tijd als zelfstandig ondernemer: Connect Yachtbrokers BV!

Het kopen en verkopen van een jacht moet iets bijzonders zijn. Een kostbaar bezit komt of gaat. Gezellige avonden, bijzondere reizen, knobbelig weer doorstaan…, te veel om op te noemen. Het is meer dan zomaar een boot die u begroet of waarvan u afscheid neemt.

Wilt u uw jacht verkopen, dan helpen wij u graag uw jacht optimaal te presenteren. Het moet een nette indruk maken op foto en film, die wij voor uw verkoopadvertentie maken. Hierbij zetten wij onze drone in, zodat uw boot ook varend vanuit de lucht van alle kanten te zien is. Deze beelden vallen enorm op tussen al het overige aanbod.

Of u nu koopt of verkoopt, wij nemen uw zorgen weg en delen marktinformatie met u, waardoor wij op een eerlijke en open manier realistische verwachtingen bij u scheppen.

U bent van harte welkom voor een vrijblijvend gesprek op ons kantoor in Enkhuizen.