J.P. (Jan-Peter) Jaarsma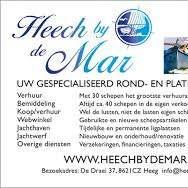 J.P. (Jan-Peter) Jaarsma

Description
EMCI full certified yachtbroker & appraiser Jan-Peter Jaarsma

Heech by de Mar

Heech by de Mar is al 25 jaar gespecialiseerd in de verhuur, makelaardij en nieuwbouw van Rond- en platbodemjachten.
In samenwerking met bekende jachtarchitecten worden snelle en ruime platbodems ontworpen die op eigen werf worden gebouwd.
Alle schepen stralen vakmanschap en liefde voor het traditionele scheepsambacht uit.
Onze Rond- en platbodems behoren tot de absolute top van wat men in Nederland kan huren.

Heech by de Mar

Heech by de Mar ist bereits seit 25 Jahren Spezialist für den Rund- und Plattbodencharter und Bau dieser Schiffe. In Zusammenarbeit mit bekannten Yachtkonstrukteuren werden schnelle und geräumige Schiffe entworfen und auf der eigenen Werft gebaut. Alle Schiffe strahlen fachwerkliches Können und die Liebe für den traditionellen Schiffsbau aus. Die traditionellen Rund- und Plattbodenschiffe gehören zu der absoluten Spitzenklasse der in den Niederlanden zu chartern Schiffe.

Heech by de Mar

For 25 years, Heech by de Mar has been specialised in construction, hire and salesmediation of Round and Flattbottomed yachts.
We work together with famous architects, such as Hoek-Design en Visser Jacht Design, together we design and build fast and spacious Flattbottomed Yachts on our Yard.
Each and every ship reflects the expertise with which it was made, and the love for the traditional ships.
The traditional Round and Flattbotommed Yachts belong to the Top of the sailing Yachts you can hire in the Netherlands.