P. (Patrick) Hut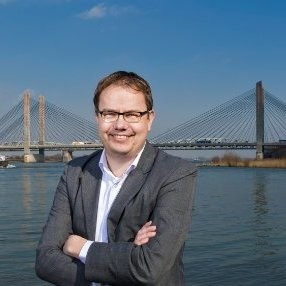 P. (Patrick) Hut

Description
Patrick Hut

The blue world: Creating Sustainable added Value with inland shipping !

Duurzaam kennis delen, samenwerken en innoveren … dat zijn de kern begrippen van The Blue World. De organisatie realiseert op die basis onder meer vernieuwende maritieme concepten en innovatieve scheepsontwerpen.

Het in Zaltbommel gevestigde The Blue World is in 2007 ontstaan uit de samenvoeging van meerdere ondernemingen waaronder het in 1980 opgerichte bedrijf Scheepsmakelaardij J. Hut. Door verschillende expertises samen te voegen, kunt u bij ons terecht voor een breed scala aan vragen variërend van innovatief scheepsontwerp en -bouw, makelaardij en advies tot exploitatie en waterbouw. Wij begrijpen welke uitdagingen u tegenkomt in de maritieme sector. Iedere onderneming en iedere situatie vergt zijn eigen specifieke oplossing. Gezamenlijk maken we de combinatie van uw wensen en onze ervaring, zodat u de juiste volgende stap kan nemen in uw bedrijf.

Wanneer u met ons van gedachte wilt wisselen over wat wij voor u kunnen betekenen, kunt u ons bellen of mailen voor een afspraak. We komen graag met u in contact.

Innovatief scheepsontwerp en -bouw

Duurzaamheid omvat meer dan het ontwikkelen van zuinige schepen. Binnen The Blue World betekend duurzaamheid het complete proces van ontwikkelen tot 2en met het recyclen van schepen. Het verminderen van het energiegebruik, de toepassing van duurzame energie, of het vermijden van afval het team van The Blue World ziet toe op het duurzaamheid beleid in elke fase. Met ons premium model blue line neemt de organisatie op het gebied van ontwikkelen en het bouwen van nieuwe schepen een bijzondere positie in.

Scheepsmakelaardij en advies

De scheepsvaartsector is continu in beweging. Daarbij is een schip kopen of verkopen voor velen geen alledaagse bezigheid. De verschillende privé en zakelijke aspecten gecombineerd met de regelgeving die regelmatig wijzigt, maken het er niet eenvoudiger of overzichtelijker op. Onze gecertificeerde scheepsmakelaars kunnen samen met u al deze aspecten inzichtelijk maken.

Door ons uitgebreide netwerk weten onze scheepsmakelaars waar en op welke manier u het beste zaken kunt doen. The Blue World is lid van verschillende branche organisaties waarmee kwaliteit en integriteit gewaarborgd worden.