Van der Vliet Quality Yachts BV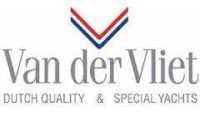 Description
Dutch Quality Yachts Specialist Brokers – Marketing - Consultants - Valuers - New Construction & Refit Experts- Since 1975

About Us

Since 1975 Van der Vliet Quality Yachts has served her world-wide clients in selling and purchasing of motor & sailing yachts. The company has established a firm place in the Dutch-built-and-designed segment of the yachting industry.

Van der Vliet Quality Yachts was founded by Ad van der Vliet who became the youngest Dutch qualified yacht broker. In 1980 the 15,000 m² yard in the historic city center of Muiden, nearby Amsterdam, was purchased and became Van der Vliet Quality Yacht's European central sales marina with a service & refit yard. In those days these facilities were the ideal key-tools to match the buyer and seller.

The company vision changed with the arrival of the internet. In 1995 we chose to migrate from the sales marina concept to an online environment.

This automatically gave us a more global position that has strengthened the basis of our international company today. Van der Vliet's family-orientated business offers both expertise and dedication. Our database and network expanded over the years enabling us to find the right buyer or seller in the shortest possible time and to offer vast world-wide service.