Bach Yachting International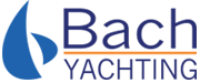 Bach Yachting International
Postal Address
Vaartweg 77
NL 8243 77
Lelystad
Netherlands
Visiting Address
77, Vaartweg, Noordersluis, Lelystad, Flevoland, Netherlands, 8243 PD, Netherlands
T:
+31(0)320 746 046
http://www.bachyachting.com
Description
Welcome To Bach Yachting

Bach Yachting is sworn and certified yacht broker and Member of the Dutch Association of Sworn Shipbrokers, EMCI Register & HISWA.
In 20 years of existence Bach Yachting has grown to be a well-respected name in the performance yacht & quality yacht brokerage market with offices in the Netherlands, Croatia, Italy, Spain and Turkey.

We offer a full comprehensive service to our purchasing customers which often lasts for the entirety of their ownership. When you decide to choose from our vast range of either new or used sail and power boats, our professional new brand managers and brokers can offer practical and invaluable advice on the following:

Finance, Insurance, Surveys & Sea Trials, VAT, Storage, Boat Yard Services, Charter Management, Valuation, Custom construction management, Deliveries, Race campaigns and Yacht-registration.

Listing your yacht with Bach Yachting means she will be seen.

Our dedicated team finds a buyer for your boat, starting with:
•Producing detailed specs with information and pictures of the yacht
•Marketing the yachts brochure on our own websites and on several international yacht-sales websites
•Inform our clients about the new listing and connect the yacht to interested buyers known to us
•Giving you an update on all activity
•Receive offers and negotiating on your behalf

We will manage the processes to ensure a smooth and secure transaction by:
•Holding all of the title documents and other important paperwork
•Preparing the sale and purchase agreement
•Drawing up title transfers
•Overseeing the completion and handover process
•Putting any transferable funds into our Escrow Account for a safe financial transaction

Next to the mediation in used yachts Bach Yachting is proud to offer a nice range of new built yachts: Salona Yachts, Sydney Yachts, the exclusive and fast Italia Yachts & the racers from Turkey designed by Mark Mills – MAT Yachts. Since 2016 Bach Yachting is dealer of the McConaghy Boats.

The charter department- Bach Yachting Sailing Experiences- organizes regatta charter on spectacular racers such as TP52, Swan 42 Race, Ker 11.3 and VOR60 in the Med and Caribbean.

For all issues concerning purchase, sale & ownership of yachts and charter Bach Yachting is your ideal partner.