Amels BV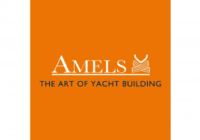 Amels BV
Postal Address
Postbus 84
NL 4380 AB
Vlissingen
Netherlands
Visiting Address
2-4, Koningsweg, Oude Binnenstad, Vlissingen, Zeeland, Netherlands, 4381NA, The Netherlands
T:
+31118485002
http://www.amels-holland.com
Description
THE YACHT IS ONLY THE BEGINNING...
Which is more important: the yacht or the experience? The reason AMELS has become the largest Dutch superyacht builder is because we know it's not just about the yacht, it's about creating the opportunity for shared experiences and wonderful memories with your loved ones. Our repeat clients return to AMELS because they know the AMELS experience is more than owning a yacht, it's the door to a more enriched way of life.

At AMELS and DAMEN we build and refit the world's top superyachts, expedition yachts and superyacht support vessels. Based at our headquarters in the Netherlands, we are the luxury yachting division of the global Damen Shipyards Group. Together with the best yacht brokers and designers, our expert sales team has all the knowhow and experience to help deliver your yacht just as you envisage.