Yacht and Power Sales | International yachtbrokerage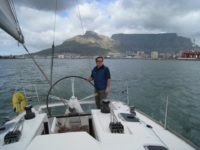 Yacht and Power Sales | International yachtbrokerage
Postal Address
116 Lympleigh Road, Plumstead
7800
Cape Town
Zuid-Afrika
Visiting Address
Lympleigh Road, Plumstead, Kaapstad, City of Cape Town, West-Kaap, 7800, Zuid-Afrika
T:
+27 83 444 3630
M: +27 83 444 3630
http://www.yachtandpowersales.com
Omschrijving
Based in Cape Town, South Africa, we are a brokerage company that deals in the sales of new and second-hand sailing yachts, catamarans and motorboats. We not only operate locally but nationally and internationally.

Whether you are a weekend sailor, a power fanatic, a cruising professional or just hoping to fulfil a dream, we are here to ensure your experience, whether it be the purchasing of your very first vessel, selling a vessel to upgrade or downgrade, or just perusing the market with the hopes of one day fulfilling your life's dream, we are here to make it a pleasurable experience for you.

We are passionate about what we do, we like what we do, and we do it well. Honesty and integrity are the principals we work by, and by sticking to this ethical path, we have built lasting relationships with the vast majority of our clients. We are very proud of this and believe that the "repeat business" and "word of mouth" referrals we receive, to be our finest endorsement.

We have many years of actual experience in all the areas of the purchasing and selling of vessels whether locally or internationally. Having been in the industry since 1998, we know the inherent values of a vessel and realist market value. We can provide valuable experience in areas of finance, surveys, valuations, insurance, transportation, deliveries, mooring, maintenance, refits, equipment acquisitions, clubs and associations etc. With this experience we can guide, give advice and make recommendations which will aid you in your journey. We are committed to making sure your satisfaction is our priority.

We hope that your experience here, and the information you gleam, will keep you coming back again and again.

Please feel free to contact me for professional and helpful service or advice.